Business moves fast in Richmond, VA.
Fios Internet for Business and Business Digital Voice move faster.
Learn more
DC, your copper internet is history. Upgrade to Fios and get $30 off.
Get $30 off for 24 months and no activation fee with a two-year contract. *See offer details
Verizon goes to work for Richmond businesses.
Simply put, your success is our success. That's why we offer Business Digital Voice, TV and Fios Internet for Business at prices that won't hurt your bottom line. Verizon business solutions give you access to 24/7 support, price-lock options and much more, including:
Unparalleled 100% fiber-optic network with speeds up to 1 gig in select areas.
Professional on-site installation with flexible scheduling.
Get visual voicemail WAV audio files sent right to your email.
Use over 30+ calling features to keep things organized.
Don't hesitate any longer — get in touch with a Verizon communications expert today, and take advantage of all the best deals on Fios Internet for Business and Business Digital Voice.
Products and pricing in Richmond, VA
Fios Internet for Business and Business Digital Voice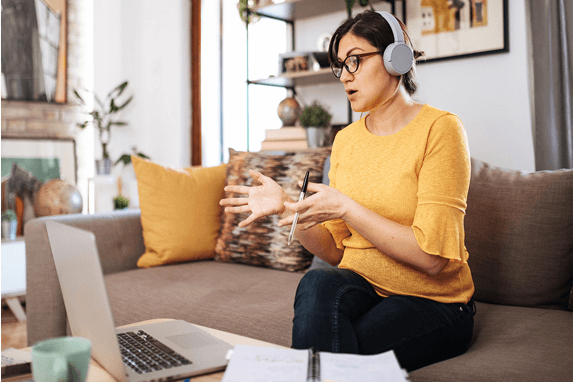 Video conferencing done right with BlueJeans by Verizon.
BlueJeans by Verizon lets you meet with your teams virtually, no matter where in the world they may be. And with in-app intelligence, BlueJeans highlights the most important parts of a meeting, including discussion points and action items, and even replays those highlights. With a name you can trust and enterprise-grade security, BlueJeans will fit your company like a nice pair of denims.
Choose an internet package above to get started.
Verizon was rated #1 in Customer Satisfaction with Small Business Wireline Service, 3 Years in a Row
For J.D. Power 2021 Award Information visit jdpower.com/awards.
Choose your Verizon TV plan
Phone solutions in Richmond:
Business Digital Voice

When you're running a small business, missing a call can affect your sales. At Verizon, we designed our Business Digital Voice products and services to help alleviate some of this pressure. Imagine never missing a call again, even when your entire staff is busy or you just can't be there in the moment.
Verizon Business Digital Voice is a cloud-based VoIP system that gives you 30+ features like Visual Voicemail, Call Waiting and Music on Hold. With over 600,000 small businesses spread across the state, making up over 97% of the Virginia business community, having a powerful phone system could be the edge you need to
stay ahead. Contact us to learn more about what Business Digital Voice can do for your company and take advantage of the best deals going on right now.
Powerful Verizon Fios Internet for Business in Richmond
It doesn't matter what you do for a living, the internet has become an everyday institution of life. Whether you need it to reach your customers or stay current on your competition, fast and powerful internet is a tool that it is near impossible to do without. However, not every company uses internet for the same purposes and not every company needs the same amount of bandwidth to take care of their business.
That's why we offer Fios Internet for Business with options that are designed to address the needs of different types of companies. At speeds that typically range between 75 and 150 Mbps, your internet will far exceed Virginia's average speed of 38.6 Mbps. In some areas of Richmond, you might even be eligible for Fios Gigabit Connections, which run at a lightning-fast 1000 Mbps.
Either way, your competitors running at average internet speeds just won't have the bandwidth that is necessary to keep up with your company. Business moves fast, but Fios Internet for Business moves faster. Get in touch with your local Verizon business representative today to find out more and take advantage of all the current offers on Fios Internet for Business.
Richmond is home to eight Fortune 500 companies.
As of 2017, Richmond is home to eight Fortune 500 companies, up from six in 2016. While there are many cities that boast a larger total number, the number of Fortune 500 companies located in Richmond relative to its size is significant, even on the world's stage.
Broadband throughout Virginia
The forward-thinking state legislature, under the leadership of Governor Timothy M. Kaine, established the Office of Telework Promotion and Broadband Assistance in 2006. This organization had the foresight to understand the future demand for telework and took measures to expand broadband infrastructure throughout the state. Since 2010, Virginia has received over $8 million in federal grants for expanding broadband access through Virginia's Broadband Initiative.
88% of Virginia has access to broadband.
Today, approximately 88% of Virginia has access to broadband, at an average speed of about 38.6 Mbps. Verizon Business has been a proud contributor to the widespread availability of broadband networks and services in Virginia. And we plan on contributing to the expansion of gigabit speed service moving into the future. To see if Fios Internet for Business and gigabit speeds are currently available in your neighborhood, check out our Fios availability page.
Richmond: A past rich with commerce and trade
Richmond, Virginia has been a city since the earliest days of our country and has served as the backdrop for many historical events. This historical significance and relatively close proximity to the coast have made Richmond a major hub for commerce in Virginia.
Those rich business traditions carry on through today, where Richmond is now host to the corporate headquarters of eight
places to work in the region. Sixty total companies are recognized for their achievements, separated into 4 categories: 5 mega-sized companies, 5 large-sized companies, 20 medium businesses and 30 small businesses.
Did you know?
In 2015, Verizon was ranked as the 18th largest employer in Richmond. It's our hope to continue contributing to growth in the Richmond area while empowering businesses with access to better broadband.
1
Health care and educational services
14.1%
See if you can get business internet in your area.
Learn about Verizon business solutions.
Fill out the form and we'll call to give you a quote and answer your questions about Verizon small-business services.