Your business deserves reliable internet.
$69
/mo.
1-yr. price guarantee
100 Mbps
Plus taxes, fees & equip. charges
Learn more
Winner: Fastest business internet provider
Verizon business:
"Perhaps bolstered by buying our last year's winner, XO Communications, Verizon's divisions targeting internet access for business showed a marked speed improvement, enough to push it into an arena where any office should consider it first for access."—PC Mag**
Internet that's ready for your small business
Other providers may claim to have the fastest internet but only Fios gives you upload speeds as fast as your download speeds. And upload speeds that match your download speeds can save your business precious minutes every day. So whatever you do online, whether it's uploading or downloading files, you can do it fast. Plus you'll get a powerful business advantage:
Unparalleled 100% fiber-optic network with speeds up to 1 Gbps
Professional on-site installation with flexible scheduling
24/7 business-class support for your internet and a 30-day money-back guarantee
Why uploads matter:
Did you know that whenever you send an email attachment, back up files to the cloud or share a large file or video, you're uploading? Fact is, we're uploading more than ever. And if you're going to keep up with business, you need upload speeds that can keep up with everything you do online. That's why Verizon Fios offers matching upload and download speeds.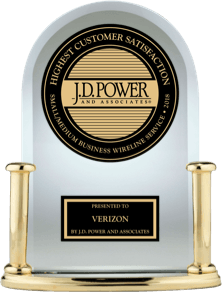 We'd like to thank you—
our customers.
Verizon received the highest score among small/medium businesses in the J.D. Power 2017-2019 Business Wireline Satisfaction Study of customers' satisfaction with their business wireline service.
Visit jdpower.com/awards
Find out more about Verizon solutions for business.
Fill out the form and we'll call to give you a quote and answer your questions about Verizon business services.
* Required Field
We keep all your information secure