Can you keep up with the Yealink W56P phone?
Cords won't hold you back with the latest in VoIP business technology.
Learn more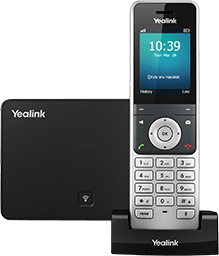 Take your business talk mobile with a four-star cordless phone.
Sometimes to handle the chaos of your business's day-to-day, it's not enough to simply have an IP phone. You need your phone to go where you go, to be ready and accessible every second and able to handle high volume and simultaneous calls. The Yealink W56P gives you the best of both worlds—a cordless VoIP phone designed for on-the-go workers in industries such as retail, catering, and warehousing. Cutting the cord doesn't cost you anything in terms of functionality, and the Digital Enhanced Cordless Telecommunications (DECT) ideal still holds true.
You'll enjoy features that include auto intercom, paging, and three-way conferencing, as well as basic options such as redial, mute, call transfer, call forwarding, caller ID display, voicemail, speed dial, and a remote phone book. If the battery's running low, you can switch the phone into ECO Mode, or ECO Mode+, extending your talk time by several hours. Verizon Business Digital Voice enhances these cutting-edge features and helps small to medium-sized businesses thrive in a competitive world.
Yealink W56P features
The Yealink W56P cordless phone showcases a sophisticated, industrial design with a 2.4 inch color screen and is equipped with HD voice. The indoor range is 65-165 feet and the outdoor range is 985 feet. The phone has a standby time of 400 hours before it must be returned to its base station.
For the worker who puts in 10,000 steps a day, get a phone that can keep up.
In a world that rarely slows down, hands-free communication is the norm, even for businesses. Certain tech is required depending on different needs, and many have shied away from a VoIP phone because they don't believe it will fulfill those needs. The Yealink W56P was designed to alleviate certain pain points you might address when considering a cordless phone:
You're always onsite at the office but never at your desk.
You wouldn't really call yourself a mobile worker, so you're not necessarily looking for a cellular solution.
A desktop phone isn't a great solution either—you'd miss too many calls. A cordless handset is a must.
The Yealink W56P lets you multitask like never before, and delivers superb audio quality when paired with Business Digital Voice. The W56P embodies the DECT standard in every way possible and will help launch your business to the next level.
Customer success story: It's got to be hands-free for me.
I run a small clothing store and in my line of work, there are no desk jobs. Everyone is constantly on the move, whether it's helping customers, cleaning, or stocking merchandise, which makes it hard to answer the phone sometimes. Even with a portable handset, there's still a good chance I'll miss an incoming call because I have my hands full with something. I heard about the Yealink W56P from a colleague. The features fit so perfectly with what I needed in a phone.
My call intake has increased and the phone has improved my talk time and made my customers' standby time shrink, not to mention I get hours and hours of battery before I have to put it back in its charging base. The best part is that it came with a headset jack and a belt clip, so I can wear the W56P when I'm talking to customers or waiting for incoming calls, and can talk directly through the headset. This VoIP phone has truly made a day full of multitasking that much more productive.
It's time to refresh your tired phone and internet.
Many small businesses have a tendency to be slow to change, particularly with technology such as phone or internet services. The hassle alone can feed that reluctance. As far as business phones are concerned, copper wires have worked adequately for many years, but have distinct limitations (slow upload speeds, anyone?).
Since VoIP has come into the picture, it's easy for small businesses to to see the results other companies have had with hosted VoIP solutions such as Business Digital Voice, and the industry refresh doesn't stop there. VoIP can lead businesses to look at a broader technology resurgence, aiming for faster internet and integrated packages, like Verizon business bundles, that help usher in mobile workstyles.
For some, this means having VoIP on mobile devices. For others, hosted VoIP is compatible with cordless IP phones, such as those in the Yealink lineup, which frees up entire workforces to be able to roam 160 feet indoors or over 900 feet outdoors.
With DECT solutions like the Yealink W56P, there are fewer interruptions to the daily workflow and businesses ultimately become more productive. Who knew a cordless handset played such a big part in the neverending tech march forward?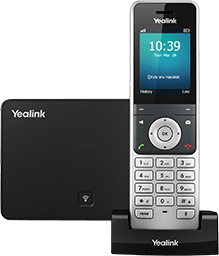 Yealink W56P 5 line IP cordless phone base with 1 handset
$150.00 + taxes
Fios Bundle Internet + Business Digital Voice
Internet + Voice
200 Mbps
200/200 Mbps
$89
Per month. Plus taxes, fees & equip. charges
Promos
Get up to a $1,500 credit to help cover costs to switch, with 2-year term.
Available Extras
Save $85 on your first IP phone.
Add additional Business Digital Voice lines for $25/mo
Talk faster, talk easier with Verizon.
1
Charge for success with the best technology.
With a Yealink phone, 20 minutes of charge time is 2 hours of talk time. Yealink technology is an industry leader in battery performance.
2
Stay ahead of the game with Verizon.
Your internet keeps your phone up and running.The Verizon network helps keep your business performing at its peak with a secure, reliable connection.
3
Bundling should be a business no-brainer.
Strive for simplicity with Verizon business bundles. Combine your phone, internet and TV services into one bill to save money, time and stress.
4
What's Yealink? Only the best in the business.
Yealink has been making collaboration within businesses easy since 2001. Yealink is certified to work with many of the VoIP industry's top brands.
Want your Verizon services tailored to your business? Simply fill out the form to get started.
Looks like there's an issue submitting your form.
Ensure your ad-blocker is disabled and submit again, or call us to complete your order!

I agree to the PRIVACY POLICY and the TERMS & CONDITIONS, which include mandatory arbitration. I also provide my consent for Clear Link Technologies, LLC, its affiliates, and associated brands to send me timely offers and useful information via emails, phone calls, and SMS messages, including SMS messages or calls to my mobile phone via automated technology and artificial or pre-recorded voice, at the number provided in this form. I understand that my consent is not required as a condition of purchase and that message and data rates may apply.
Thank You! You should receive an SMS text message from a Verizon sales consultant shortly.