The Yealink T40
phone—basic or brilliant? It's both.
Experience the entry-level phone that delivers a superior level of quality.
Learn more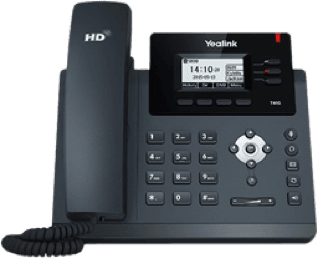 Get a four-star phone with five-star quality.
Your business is more than just a business—it's your way of life. As a small business owner, your main priority is to make your operations flow as smoothly as possible, which is impossible if your phone system isn't up to par. The Yealink T40 is a corded two-line IP phone that provides everything you need to communicate with customers and vendors easily and efficiently. This is an entry-level, business media desk phone perfect for cubicle workers and common areas.
Despite its simpler design and user interface its functionality lives up to Yealink's high standards and perfects the patented technology in a basic option. You'll have crystal-clear conversations thanks to HD voice, which provides arguably the best audio quality in the industry. Sleep soundly knowing your phone system is one less thing you'll have to worry about during your daily grind.
Yealink T40 phone features.
The Yealink T40 phone provides 3 line keys with LED. Other features include a monochrome backlit LCD screen and a 12-key dialpad with home, speaker, mute, headset, and volume keys. The hands-free speakerphone and handset deliver HD voice. A four-way navigation cluster with a center "select" button makes directing calls simple.
Not tech savvy? No problem.
It's hard to get along with technology sometimes, and business media is often the worst. A hosted VoIP phone system can seem intimidating, but it's perfectly manageable and a complete game changer for your business. Unlike more traditional phone systems, hosted VoIP runs through the cloud rather than through a tangle of wires and ports that sit in a closet somewhere in your office. This takes away the hassle of maintaining IT support or implementing special training to keep your phone system up and running. The Yealink T40 features a simple web interface that allows you to easily perform tasks such as:
Adding users
Deleting users
Enabling additional features
You don't have to be a tech genius to make the most out of your phone system. It makes the most out of itself.
Customer success story: How hosted VoIP cleared a path for my business.
I have so much to do on a daily basis that sometimes it's hard to keep my to-do list straight, and if something like my office phone gives me problems, that's valuable time taken out of my day that I could be dedicating to customers. What I need is time to focus on my business and making it stand out in the market, so I decided to look into getting a hosted VoIP phone system. The result was better than I could have hoped for. Having a hosted VoIP system allowed me to put my full concentration into my business, without getting sidetracked by phone issues.
What's more, I paired my new Yealink SIP phone with Verizon Business Digital Voice, which was fast to set up, easy to navigate, and produces the best sound quality I've ever heard. I don't have to employ any IT personnel to manage the settings—they're simple enough for my employees and me to operate smoothly. The time I've gotten back has been invaluable.
Don't mistake basic necessities for bare bones.
The Yealink T40 doesn't look or function like an entry level device. From its fine craftsmanship to the exceptional audio quality, the Yealink T40 surpasses most basic business media phones by offering both durability and capability, despite fewer buttons and the lack of other features that may grace more sophisticated IP phone models. That is not to detract from its quality, however—the Yealink T40 sound quality rivals the executive-level T48, which makes it a contender within the market at a fraction of the price.
The speakerphone alone produces a richness that even mid-range phones fail to achieve. Like all Yealink phones, the Yealink T40 raises the bar in voice quality and overall satisfaction. Don't be fooled—this basic IP phone option comes with plenty of perks. You still get 30+ calling features including voicemail, call logs, and click-to-dial functionality, through which you'll be able to do things like send emails and monitor and direct calls with ease. To top it all, HD voice makes SIP to SIP calling absolutely flawless, keeping your business at the forefront of the competition.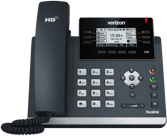 Fios Bundle Internet + Business Digital Voice
Internet + Voice
200 Mbps
200/200 Mbps
$89
Per month. Plus taxes, fees & equip. charges
Promos
Get up to a $1,500 credit to help cover costs to switch, with 2-year term.
Available Extras
Save $85 on your first IP phone.
Add additional Business Digital Voice lines for $25/mo
Simplify your communication.
1
Never compromise quality for affordability.
The Yealink T40 is a low cost IP phone perfect for desks and common areas. You'll get peak performance without the extra cost.
2
Bundling brings out the best in your services.
Simplify your business, save time and money, and make life easier by bundling your phone, internet, and TV services into one easy-to-manage bill.
3
Discover why Verizon is the leading network.
Your business VoIP phone is only as good as your internet. Verizon delivers top-notch speeds and reliability to take the pressure off and help your business shine.
4
What makes Yealink stand out in the crowd?
Yealink has always been dedicated to the craft of communication, enjoying certifications and partnerships with many of the industry's top VoIP brands since 2001.
Want your Verizon services tailored to your business? Simply fill out the form to get started.
Looks like there's an issue submitting your form.
Ensure your ad-blocker is disabled and submit again, or call us to complete your order!

I agree to the PRIVACY POLICY and the TERMS & CONDITIONS, which include mandatory arbitration. I also provide my consent for Clear Link Technologies, LLC, its affiliates, and associated brands to send me timely offers and useful information via emails, phone calls, and SMS messages, including SMS messages or calls to my mobile phone via automated technology and artificial or pre-recorded voice, at the number provided in this form. I understand that my consent is not required as a condition of purchase and that message and data rates may apply.
Thank You! You should receive an SMS text message from a Verizon sales consultant shortly.